Libby Driving School
Libby offers some of the best driving lessons in Isleworth.
She has been trading for over 8 years and is regarded as one of the best Instructors in the area.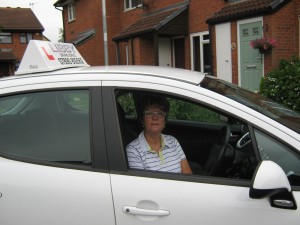 Libby Driving School. Female driving instructor offering driving lessons Isleworth, Staines, Twickenham and surrounding areas.
Learn to drive a skill for life. Nervous drivers always welcomed. At Libby driving school you can learn at your own Pace. Refresher lessons are also available. Competitive rates always offered and pupils can "Pay As You Go", or save money with Libby's block booking discounts. Ask for more details. A franchise opportunity has become available to join Libby and her Driving School. Are you recently qualified and require some mentoring in order to start with your Business? Maybe you are an experienced ADI who wants the support of a school? Contact Libby for an informational chat about joining her team.
If you are looking for a job as a driving instructor offering Driving Lesson Isleworth then Libby can help
Please visit my Facebook page to find driving lessons Isleworth

With so many Driving Instructors on the road these days, the decision to choose an Instructor has become even harder. Some of us are part of a Franchise with a local or National school & some of us are Independent like myself. So you could say "I did it my way" with driving lessons Isleworth. Doing it "My way" has been the best thing I could have done as I strive to give my pupils the confidence they need to learn "How to drive" at the pace which is right for you.
I don't believe in rushing your lessons, but I do believe in working with you in order to learn the skills & techniques involved to turn you into a safe driver on the road….Your lessons will be structured to your needs & not my needs & will take place in a safe & orderly manner.
With Driving lessons Isleworth you will learn at your own pace & will not be pushed out of your comfort zone, unless I feel you can handle it.
Driving lessons Isleworth can be taken from home,school,college/Uni or place of work. All lessons are subject to availability and can be paid for on a "Pay as you Go" system or in a block of lessons to gain a discount.
If you really want to learn "How to Drive" & gain a "Skill for Life" then please do give me a ring to talk it over with me and book in your first lesson. However if you already have a licence & haven't driven for a while and just want some refresher lessons, then also "Get in touch" to discuss your needs further.
Driving lessons Isleworth We can work together to do it "Your Way"..